Age: 29
Sponsors: Quiksilver, YES snowboards, Gorilla Energy, WhiteLab, G-shock
Home Mountain: Krasnaya Polyana Resort
You are from Siberia, how is the snowboarding scene over there? Is that where you learnt to snowboard and perfect your backcountry riding?
Yes, I was born and raised in a small town called Nadym which is the Far North peninsula in the West Siberia. Winters are long and tough out there and by the time I was a little kid that area been autonomous and you couldn't leave or enter it without a special permit. There is still a lot of struggles with the internet and back then there were no sources of any information from the outside world. We aint got no mountains out there, no resorts, no lifts but endless hills, 200-300 meters high above sea level. At first I picked up cross-country skiing, that's what my parents would do on a weekend and one day when I was doing cross-country skiing with my Mom a sled passed by us and I witnessed a guy who was being towed behind that sled and he was moving sideways so gracefully, it blew my mind. I asked my Mom what the hell it was and I remember her answer, "Son, it's called snowboarding and you can wreck your neck doing it, so don't even think about it!" haha. It stuck in head, so right after we skied, I found my friends and told them what I just saw. One of them said that he had read about it from a magazine that his father bought from somewhere and he gave it to me. I remember there was an article about definitions of tricks and so on, I even printed a copy of that magazine. Later on, I figured out more about snowboarding and met a community of riders. Only a few people had real boards and most of the others were riding on hand-made wooden planks, from then, I learnt how to make one and I made it with my Dad.
The snowboarding there back then was really about backcountry and it was natural for us to go and explore new routes, new hills, find a small line, try to jump off a tree. it was always about hiking, boot packing and spending time in nature with your friends far away from the town. As the community grew, we evolved – we become an official sport club, our government allowed us to cut some trees and make slopes, we've built DIY resort and started to compete with our neighbours, they were really good times. I moved to Moscow in 2008 to pursue the chance to become an athlete and after ten crazy years our city lost it's autonomous status, so, once a year I go there ever since to make an annual contest. It's an honour to inspire a new generation out there and to lead by example and I always say to them, if I succeed you can also and it doesn't matter if you don't have real mountains and lifts.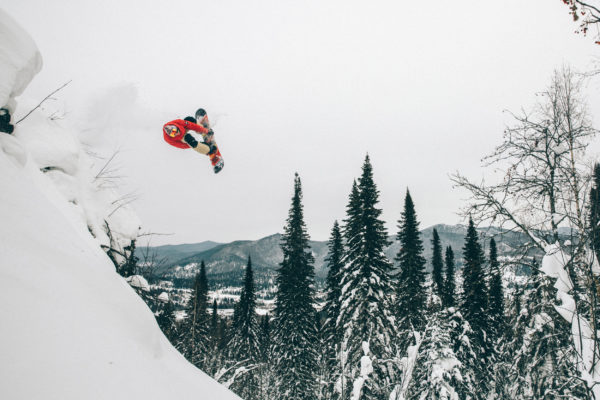 You filmed with Absinthe for their new movie Channel Zero, how did you start filming with them and what can we expect from your part?
Before I had met Vlad (filmer Absinthe) I had a really good season, I did my own movie called "Wabi-Sabi", it has its concept and focused on backcountry. Somehow Vlad found me on Instagram and Absinthe were following me during that year, so I think they knew what I've been into. By the end of that season I was doing a snowboard camp in Italy in July for my customers from Russia. So, I decided to go to Europe in advance to meet Vlad and discuss an opportunity to shoot with Absinthe. We made a plan and contacted my sponsors, so I become an Absinther the following year. Unfortunately, last season was extremely warm and short, all resorts around Russia and Europe were shut down so early, so I didn't score much, but stoked to make a credit with a legendary studio and help them to come over to Russia and show them around.
What memorable events happened when you took the Absinthe crew to Russia?
Well, we got pretty drunk plenty of times, the guys experienced the real Russian Banya (sauna), real Russian Vodka and I think they were all mesmerised by the potential of Rosa-Khutor resort – shout out to Tanya Molchanova for putting all things together, she's a big lady boss!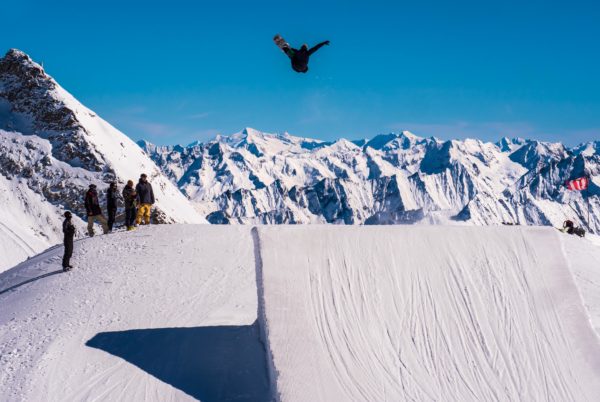 You just moved to Sochi, how is life there, I heard it has good surf?
This place stuck in my mind a long time ago, but for whatever reason I couldn't get away from Moscow. Thanks to Corona, I cleared my head and finally made that move. Sochi is a very nice place. It's warm, its near by the sea and in Spring time you can have all three sessions in a day, early in the morning you drive to the sea coast (35-45 minutes) and you surf, then you drive back to mountains and you snowboard, and if you have the power, you skate and drink beers with friends by the end of a day. truly a paradise.

You seem to spend a lot of times on trains, is it true you got the train from Russia to Japan? How long did that take?
Yeah, I think are able to see and experience more if travel by land. The same year when I was doing "Wabi-Sabi" a group of Swedes contacted me and asked for some tips, like where should they go to ride backcountry and Siberia and so on, then they explained to me more about the projects they been working on. Their plan was to get to Japan thru Russia by land with a bunch of stops in The Siberian wild mountains. That sounded like a hell of a trip and I asked them if I could join in. I think they suspected that the language barrier could be a big issue,but we got along well. We spent one month traveling together to some places that even myself I wouldn't think can exist in my country, we witnessed the craziest landscapes, made some good friends, nobody puked on the ferry from Vladivostok to Japan, almost crashed one of our RV houses in Japan, we've seen the famous fire festival in Nozawa Onsen, where I got lost after I drunk probably a couple liters of Sake and I missed the most snowy day next day. We experienced the journey of a lifetime and become friends. Definitely a story to remember and tell it to your kids haha, Good times
How long did it take to get to Austria by train?
Well, it wasn't easy. Technically Russians are not allowed to be in Europe, because of the restrictions and sanctions against us, all the embassies are closed. Luckily my European visa was still valid, so I figured out the way that I could sneak in. First of all, I drove from Sochi to Moscow, did my first PCR test there. While I waited for the results, flight tickets got sold out, so I waited for a couple of more days and took my first flight from Moscow to Istanbul. There I spent a night in the airport, did another test early in the morning, had couple of beers and took my second flight from Istanbul to Zagreb because Croatia is the only country in Europe where you can go being a Russian and I knew if I could get a stamp there, I'm pretty much good to go wherever I need in Europe. I spent a night in a hotel, checked out and skated the whole day in Zagreb and actually I did my third PCR test there because the one I did in Istanbul was taken by the dude at the border control. Later that night I hopped on a bus (cost me 29 Euro) and I was on my way to Innsbruck. Passed through the Slovenian, German and Austrian border super easily and took the last two trains to Mayrhofen. All in total it took me almost 4 days to get here, but it worth it, I'm stoked to meet my friends and get my legs back so early. Definitely a blessing to be in the Alps.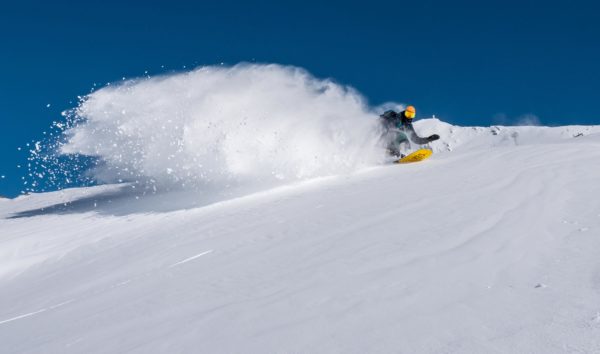 We all know of the Russian Denis Bonus, is he a major celebrity in Russia? Do you hang out with him?
The older generation probably still remember Dimi Fesenko, he was the first Russian pro, younger riders probably don't remember him though. But yeah, Denis is the Goat and definitely a super well-known snowboarder not only around Russia, but around the globe. We were hanging out back in the days, but not so much anymore. I'm glad to see him and exchange some words when we meet though.
Is it true that it's common for Russians to hack flights and hotel rooms? Have you ever done it and how exactly does that work?
More or less, I've done it few times until I got busted and somehow, I got lucky and it came out for the best, no fine, no real punishment, but ever since I don't deal with hackers. I can't tell you here how exactly it works, big brother is watching us and it's not a joke. But yeah, I guess you are right, Russians are famous for that, guilty 🙂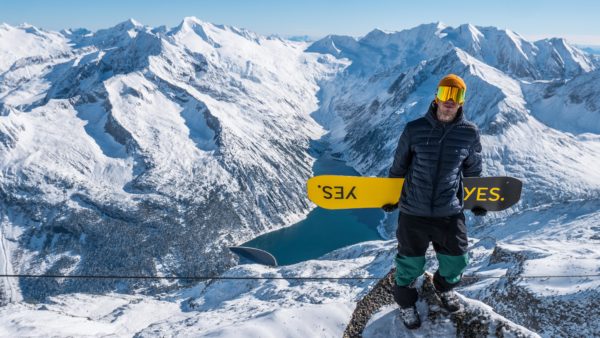 What can we expect to see from you this season?
Last season I was focused on going to new places with Absinthe, but it turned out to be not really productive, so this year I would like to stay in Russia and get everything I can from a place I know well. And I hope we all will see results in the next Absinthe movie next autumn 😉

Do you plan to ever join the freeride world tour or is filming your focus?
I was thinking a lot about it recently, but I'm having this idea as a plan B. We'll see, it's hard to make any plans these days.
What is your goal for snowboarding?
My only goal is to lead by example by being a guy from a very small city in Russia to our ghetto kids. I want to be a bridge for them, so they can believe in themselves. Snowboarding is an expensive board sport, but if you can follow your passion no matter what, you will succeed.
Index Photo: Monepic

You can follow Joon on his Instagram here.

Follow Pyramid on our Instagram here.