Age: 21
Sponsors: DEELUXE, VOLCOM, capita, union, out of optics, go-shred, santoloco shop Munich
Home Mountain: NORDKETTE is where I shred most in the winter when I am at home.
You have been getting a lot of attention with your riding recently, does that excite you to get noticed or are you just happy to do your own thing?
It actually does really excite me! I have to say that it feels very good to get some attention with doing my own thing, especially as this is something that only started about a year ago! It's always sick to hear that other shredders enjoy watching me snowboard or getting asked for an interview like this. Honestly I still feel like a Rookie a bit and I'm just starting to grow into that mindset of an almost professional snowboarder.

You can ride kickers and rails really well, which do you enjoy to ride more?
I guess big jumps are just more exciting for me and I enjoy airtime and stomping! But most days I start with hitting the jumps and after a couple of hours just jumping I am happy to have some more chill laps on the rails. In the end I wouldn't want to just stick with one. My passion is snowboarding, so I'm not really the kicker guy or the rail guy. I mostly just ride what's fun in the moment. So it actually depends on my mood on each day.

Do you have a trick list to learn each season or do you take it how it comes?
Especially for riding competitions it helps me to have a tricklist to concentrate on the few tricks I want to have in my bag for the upcoming season. For example this preseason I had the frontside 1440 on my list. Without this one on my list I probably wouldn't have focused on getting that one. Sometimes I actually write down some tricks that I want to do on a specific trip. In the end an actual list our just a list in my head helps me to not do the same stuff over and over again.

You are born in Germany but are on the Austrian team, how does that work?
Haha yeah this is confusing… So my parents are both from Austria and I have both the German and Austrian citizenship as I was born in Munich. I was actually riding with the German federation for a couple of years but then switched to a boarding school in Austria near Innsbruck (Schigymnasium Stams) and shortly after that got into the Austrian federation. For me this was a great choice and I am happy with their support.
Because you are on a national team, what are your plans? Will you compete more and if so in what discipline?
I don't have competitions planned for this season yet. Because of Covid we can't be sure which ones will actually go down and where we will be able to travel to. So regarding competitions this season's gonna be pretty chill! Normally, I would compete in Europe Cups and World Cups, both Big Air and Slopestyle. As this season will be different because of the pandemic, I want to make the best of it learning new tricks and realizing some new video projects, just like the Episodes I was doing with my crew (YoungandSavage).
You are now studying visual communications (graphics) a lot of snowboarders don't pursue an education, why did you decide to study?
After graduation I was pretty much just shredding and chilling. This was fun, but after one and a half years I felt like I had to add a challenge. To be specific: a challenge for my brain. I have always been interested in visual design and was looking for an option to study while still being able to shred a lot. At last I enrolled at a german university which offers a Bachelor of Arts degree in graphic design on a virtual basis. This means that all of my lectures are taking place online. Only exams require personal attendance, taking place in Munich. For me this is the sickest thing! I can have a great day on the mountain and still take a class in the evening. I'm just in the first semester though, so It's gonna get more hectic for sure.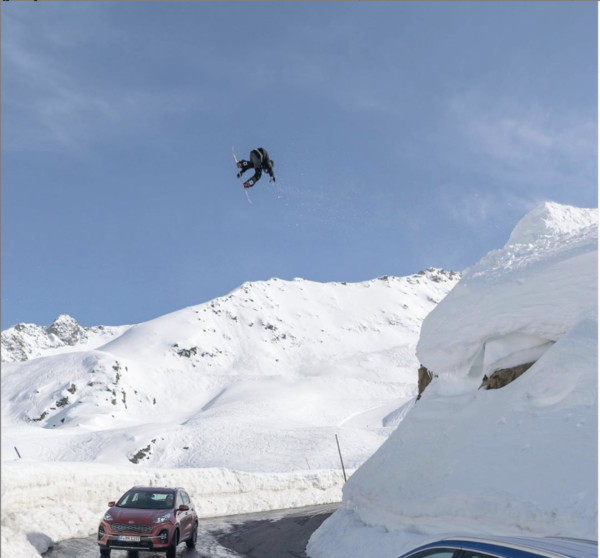 Do you hope to get a job using your visual communications degree after riding?
Yes, for sure! That's why I started studying. I want to prepare for the time after my snowboard career. For me, the ideal scenario would look like this: staying in the scene and working with different snowboard brands and -magazines as a graphic designer. I´d love to be a freelancer but have to admit that I am actually kind of scared of all the bureaucracy and paperwork that comes with that. So I am trying to connect with many different people in the snowboard world, not just to become a professional snowboarder but also for the time after. I feel like this is a sick plan haha let's see how it will work out!
What are your travel plans for this winter and has corona stopped any of them from happening?
I don't really have tight plans where to go to exactly this season. Probably Corona will keep me from traveling too much this winter. I am planning to join a street mission with Leon Gütl and Pauli Steindl to Eastern Europe though and Luis Eckert asked me to shoot with him and Maxi this season. I am also planning on organizing a Video premiere/Photo Gallery/party as I did last march with Youngandsavage (if Corona allows). So I am looking forward to a fun packed season either way.
Is filming or riding contests your focus? What gives you the most satisfaction?
Competitions can be fun. I like how you're always meeting so many shredders from all over the globe. Winning a comp feels amazing but the stoke doesn't stay longer than it takes for the next one to come up. Filming projects is more special to me because there's something I created together with my homies. This stoke I get from a sick project is more long-lasting.

Do you have any goals to accomplish in snowboarding?
Woah really big question! But yes, I do have an everyday goal… to be happy with my snowboarding 🙂 And most of the times I am!
Namasté my friends.
You can follow Moritz on his instagram here